Contact Us
AGH Tyres Ltd.
Unit 3,
Moulton Park Business Centre,
Redhouse Road,
Northamton,
NN3 6AQ
Telephone : 01604 497 505
Email :
Workshop Location:
The entrance to the business centre is on the dual carraigeway, just past the double set of traffic lights, just look for the big car park.
Please Note: sat nav may wrongly ask you to turn left at the traffic lights on to Deer Park road.
AGH Recommends:
Hybrid Battery Solutions >>
Specialists in Hybrid Vehicle Battery Repairs.

Synergy Signs & Graphics >>
Supplier and Fitter of all kinds of signs.
Online Quote
How to check your tyre size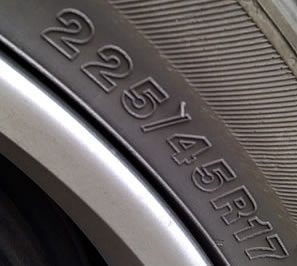 Your tyres should have a set of 3 numbers moulded into the sidewall (see above), these tell us the width, profile and diameter of the tyre. In this example we have a 17" wheel, which is 225mm wide, and 45mm profile. If you can let us know these numbers we can quickly provide you with a price and our stock availability for that size.
Please fill out our form as fully as possible, this will enable us to give you a fast and accurate price.
Alternatively you can call us on 01604 497 505.